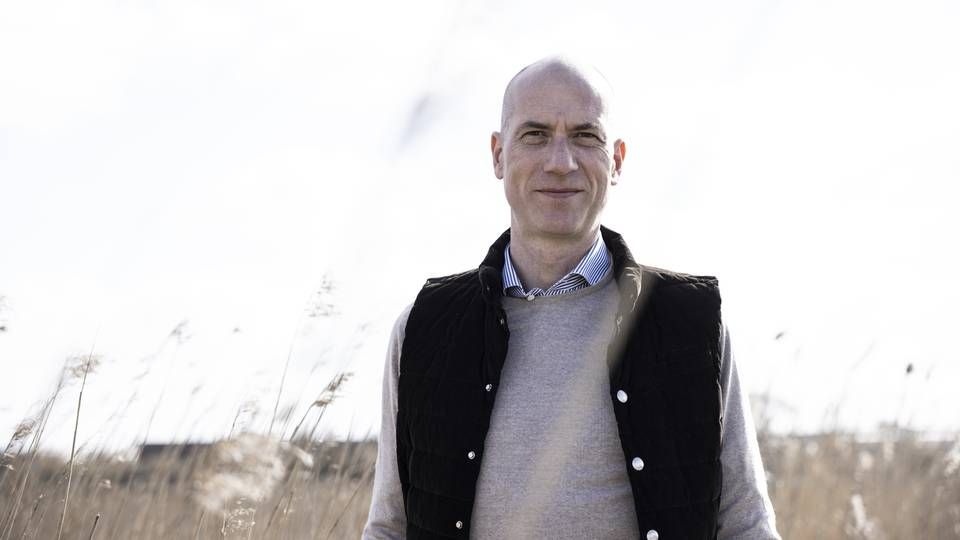 Headquartered in Western Denmark's Kolding, electrolyzer manufacturer Green Hydrogen Systems (GHS) formally announced its long-awaited initial public offering yesterday, Monday – some few hundred kilometers away from Nasdaq Copenhagen, where the company has no office space.
That's why the video presentation of the listing prospectus had to be held in borrowed locales not far from the Danish stock market's physical premises, where the domestic hydrogen comet will soon makes its debut.
Although based on the televised message GHS Chief Executive Sebastian Koks Andreassen opens his speech with, the company's reason for existing can be traced even further away from Southern Scandinavia.
"Climate change will pose a threat to modern life as we know it," says a deep male voice accompanied by by soft piano music, while an oil rig fades into the background showing as an iceberg collapses into the sea.
If any uncertainty was present before, things ought to be rather clear now. GHS is inextricably connected to climate change mitigation, and the same video concludes as much with the following statement:
"With our technology we're committed to be at the forefront of this important shift in our energy landscape."
This is hardly the first instance of hydrogen being highlighted as a crucial technology for circumventing climate peril. However, even though hydrogen production as a technology extends back almost 200 years, at present large-scale output only occurs as gray H2 made by steam reforming natural gas.
Now, though, the time is ripe for the other, green, mode of production, says Andreassen, who sees the urgency of the energy transition as the straw tipping the scale in favor of electrolysis rather than its thermal-chemical counterpart.
"Our society has been very well covered by fossil fuels for the last 50 years. No alternative has been needed. Now, the acknowledgment of climate change will drive the commercialization of green hydrogen," the CEO says.
The price for being at the forefront of this transformation is apparently DKK 1.1bn (EUR 150m). In any case, that's at least the figure GHS expects to raise from a company valuation of DKK 3bn – and the group's shares seem to already be in hot demand. Key investors such as ATP, the Danish Growth Fund, Bank Invest and Nordea Asset Management have already made capital commitments totaling a half billion kroner.
Revenue of DKK 1bn
These are indeed large sums seen against GHS' recent financial statements. Last year, the company booked revenue of DKK 9.4m, with 5 MW entering the order book.
In a matter of four years, GHS aims to grow its top line 100-fold.
We will most definitely be at the forefront.
"We have laid a basic plan targeting DKK 1bn of revenue in 2025," the CEO says after the presentation and makes it clear that he sees this sum as a conservative bid:
"We're looking into an industry that has even greater potential. We expect the market to attain a size where demand will remain ahead of supply, which, all else equal, is a favorable condition for a company like ours."
GHS expects, though, to again book negative earnings before interest, taxes, depreciations and amortization of DKK 105-115m come 2025.
No empty cathedrals
For GHS to ready itself to handle such a massive demand influx, a corresponding production ramp-up is necessary. The company's stated aim is also to use the billion-krone IPO proceeds on doing precisely that, besides also spending some cash on research and development to further develop GHS' A-series electrolyzer of 5-7.5 MW.
Earlier on, Andreassen has told EnergyWatch that GHS should have just enough production capacity to meet demand – and no more.
"We don't build churches for Christmas Eve," he said in April and repeats the same point, however placing even greater emphasis on the religious analogy:
"We must have capacity when it's needed, but on the other hand we don't want to build empty cathedrals. That's proper capital discipline, and it's important for us to wait on developing until we need the capacity. It's a constant balance."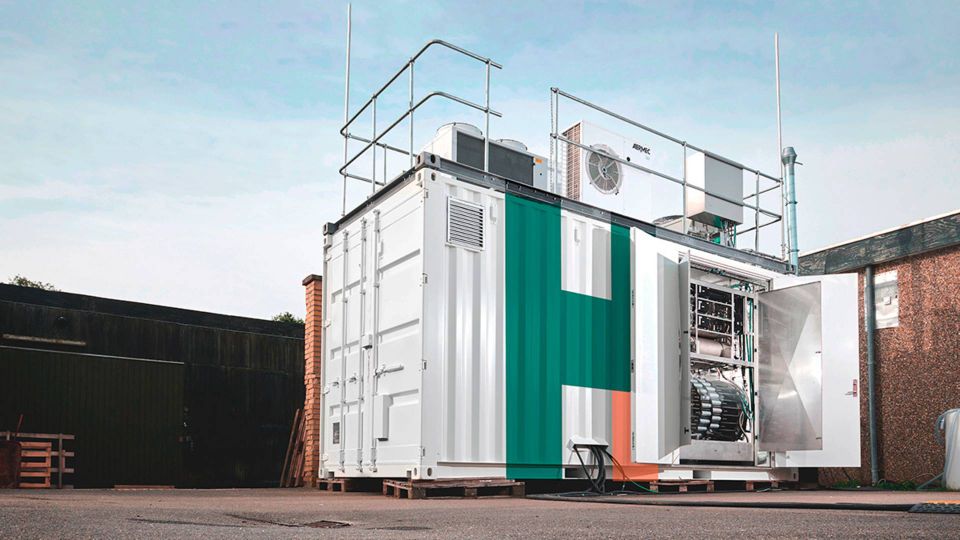 Today, GHS has 75 MW in annual production capacity when running on three-team shift rotations. According to Andreassen, that suffices for the present order book. Although that pipeline could become rapidly congested.
Solely in the last three weeks, EnergyWatch has reported how a framework agreement among Denmark's Greenlab Skive, Lhyfe and Eurowind could result in an order for 12 MW. Meanwhile, GHS is merely an EU signature away from landing a deal for a 100-MW facility at the same location.
The next step is to expand production capacity first to 400 MW and later to 1 GW. The company explains that it has not yet secured needed licenses for such construction but says it has a fine dialog with the hosting municipality.
Depends on the green transition's speed
GHS declines to share its time table for investing the IPO cash into bigger and better production facilities – beyond the CEO saying that reaching its billion-krone revenue target is hardly feasible with the current manufacturing setup.
Pledges made by national governments combined with the EU's interest in avoiding melting icebergs and other damage wrought by a heating world will end up setting the pace for GHS' growth. As soon as the group notes any overtures of added demand, it will be ready to quickly scale.
"We will not be able to comment the capacity expansion until we consulted the board of directors," Andreassen says.
According to GHS, that will not happen this year.
"Although when the decision is made, we expect the new facility to be ready after 12-18 months," the CEO says and refers to the EU's set of hydrogen objectives as a main driver of demand:
"Our mid-term figure forecast should be seen in the light of the EU having told the market of its 6-GW goal for 2024; and current capacity is merely around 100 MW. Scaling up should be seen in this context and will go hand in hand with us filling up the order books."
We must have capacity when it's needed, but on the other hand we don't want to build empty cathedrals.
The EU Commission expects the market for electrolyzers to make up EUR 24-42bn approaching 2030. These are the numbers that spur Andreassen's optimism, and he is convinced that, whereas wind energy has been an icon of climate change mitigation in recent decades, green hydrogen will fill that spot in the 2020s.
"The wind industry has impressively created a central position for itself during the past 10-15 years. But now we have reached a point where wind alone won't cut it because not everything can be electrified. Here we will play a key role, seeing as it's estimated that up to 50 percent of the CO displacement necessary for the EU to uphold the Paris Agreement can come from green hydrogen," Andreassen says.
Tough competition
GHS and Andreassen are by no means the only ones to have heard governments and the EU urging replacement of fossil fuels in heavy industry and transport with green hydrogen.
In the UK, ITM Power is underway working on several larger projects on the back of a strong collaboration with gas giant Linde, while Norway's Nel has established itself as a central industry player and already plans to scale up its production facilities on island Herøya to 2 GW.
Both competitors have similarly proven to be veritable stock exchange darlings. Not even Nel's close collaboration partner Nikola Motors' fall from grace could really curb the equity's skyward journey through 2020, although both ITM Power and Nel's shares have declined alongside other green stocks since the turn of the year.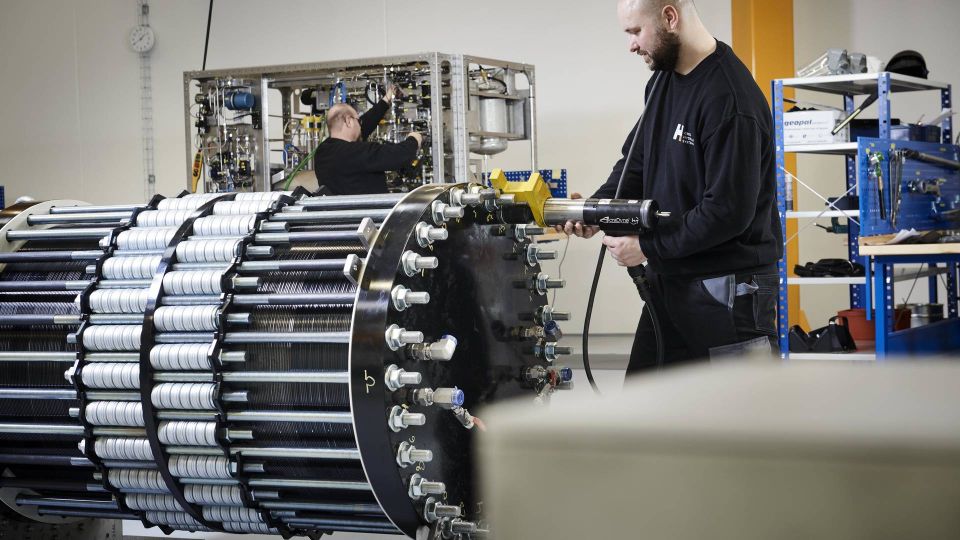 Common to the competitors, however, is also that they sell polymer electrolyte membrane (PEM) electrolyzers, while GHS' technology produces hydrogen via pressurized alkaline electrolysis. Andreassen holds that this differentiates the company from its more experienced competition.
"We're in a good place in terms of price, and on a range of important parameters like efficiency in converting power to hydrogen, we think we're ahead. Our equipment also takes up relatively little space, which is an important parameter when installing it at an offshore wind farm or an energy island, for example, where area costs are very high," says the CEO, adding that GHS' alkaline electrolyzers, unlike the competition's PEM model, does not depend on precious metals like platinum.
Potential bottlenecks are thereby avoided in production, he says. And that's important, seeing as GHS by no means plans to have a marginal presence on the European electrolyzer market.
"We will most definitely be at the forefront," he declares.
Now time will tell when the company will build its giant cathedrals combating climate change.
English Edit: Daniel Frank Christensen & Jonas Sahl Jørgensen
Danish hydrogen comet announces IPO prospectus
Green Hydrogen Systems CEO: Big public listing is no finish line
Danish energy hub, technical university launch new research platform
Green Hydrogen Systems targets Copenhagen IPO
Everfuel books profit ahead of expansion