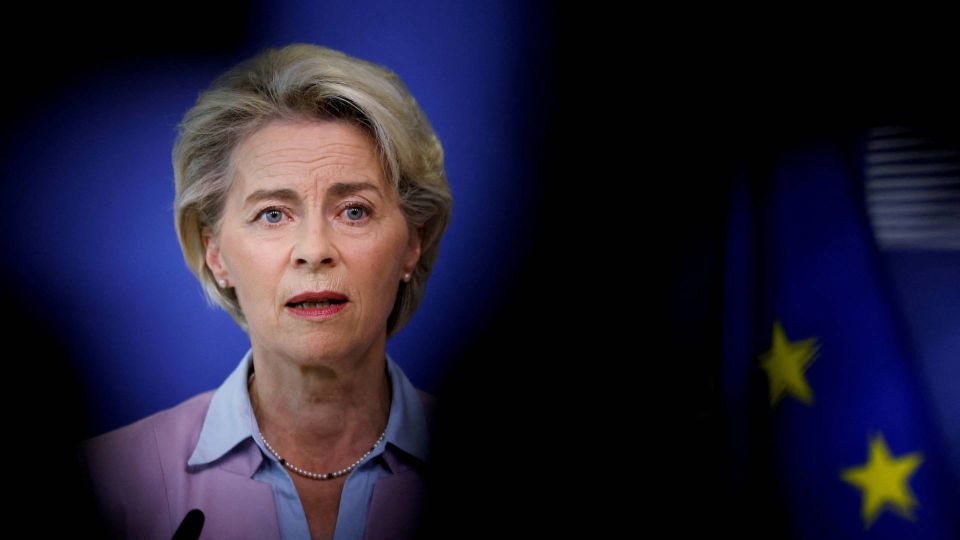 Reduced electricity consumption, capped prices for power utilities, and a solidarity contribution from oil companies made to share some of their 2022 profits.
These three elements form the basis of the EU Commission's proposal, a draft of which EnergyWatch has reviewed, which will be presented on Wednesday.
The plan was commissioned by the EU's energy ministers, who convened on Friday last week to process the Commission's proposals sketched out last week ahead of the extraordinary council meeting.
The scheme will be published on Wednesday when EU Commission President Ursula von der Leyen holds her annual State of the Union address at the EU Parliament in Strasbourg.
During the speech, von der Leyen will summarize the past year, provide a forecast for the months ahead and relay legislative proposals that the Commission intends to make in the remainder of 2022.
The overarching theme this year is the European energy crisis, and the Commission means to make a show of force with the proposed ordinance, a tool of immediate application to mitigate economic hardships resulting from the continent's destabilized energy system.
Consumption must decrease
In part, electricity usage must be reduced, with the Commission naming two objectives: one of a general and advisory nature and the second a compulsory goal of reducing peak load hours.
Member states will be required to implement measures to lower monthly gross electricity use by an as of yet unspecified percentage. 10% has been on the table, but in the document draft seen by EnergyWatch currently shows 'x%'.
The percentage is in comparison to a reference average calculated by the Commission based on five consecutive periods spanning from November to March, starting in 2017 ending in 2022.
Energy savings here will be contributed to by all consumers in Europe, and it will be up to the union's nations to decide on how to achieve the aim. To this end, the Commission mentions tools like consumer information and communication campaigns.
"Regarding peak load hours, targets are not yet established, but must entail "a mandatory target of at least a [xxx]% reduction in gross electricity consumption during selected peak price hours covering at least [xxx]% of the hours of each month where prices are expected to be the highest."
This will mean countries must choose an average of three to four hours daily from a period normally at peak load and reduce power usage, but these may also include hours when power generation from renewables is low, and electricity must be sourced from more expensive facilities to meet demand.
Deciding on how to execute these changes will be left to member states, which will also be tasked with identifying the critical hours. One idea is to compensate consumers for saving energy, but such a scheme would have to comply with EU regulation on state subsidies.
Capping electricity prices
Another element in the draft is a cap on how much electricity producers involved in renewable energy, nuclear power or lignite are allowed to earn from selling power.
This ceiling is not settled either as of yet. Previously, a cap of EUR 200 per MWh has been mentioned, but yet again the leaked version only contains an X amount.
The draft of the ordinance states that in order to avoid undermining investors' profitability assessments that underlie their investments in technology, the ceiling cannot be set any lower than the average level of the highest electricity prices prior to the Russian invasion of Ukraine.
Moreover, the draft also states that the ceiling must be high enough that it does not affect investors' willingness to fund new technologies. Similarly, various electricity producers are already bound by fixed-price agreements with some states, and will therefore not be affected by a price cap.
In order to avoid too much administration, a cap will not apply to facilities with capacity of less than 20kW.
Solidarity contribution
The third aspect is "a temporary solidarity contribution." This will be taken from profits generated by companies in oil, gas, coal, and refinery sectors during the 2022 fiscal year.
The scope of the contribution is not yet clarified.
"Only surplus profits in 2022 over a [XX]% increase in comparison to the average taxable profits generated in the three fiscal years starting on or after 1 January 2019 will be subject of the Member States' solidarity contributions," according to the draft.
Use of the solidarity contribution will be determined by the nations themselves, but it is intended to support "vulnerable" consumers and contribute to investments in clean energy forms.
Price ceiling on gas scrapped
In the draft, there is no mention of a price ceiling on gas – Russian or otherwise.
This was one of the proposals that the European Commission had tabled for discussion when EU energy ministers convened for an extraordinary meeting on Friday, but the 27 member nations failed to reach a consensus on the matter.
Some nations are worried about the implications of cutting off gas from Russia by introducing a price ceiling, while other nations such as France and Belgium seek a cap on all gas imports to the EU. A number of countries, including Denmark, are skeptical of such a move.
"It's important that we don't – perhaps even inadvertently – place Norway, for instance, in the same category as Russia because there's a huge difference there," said Danish Minister of Climate, Energy and Utilities Dan Jørgensen to EnergyWatch last week.
EU Commission's energy plan raises more questions than answers
Belgium wants price cap on all EU gas import
EU explores new pricing standard for LNG