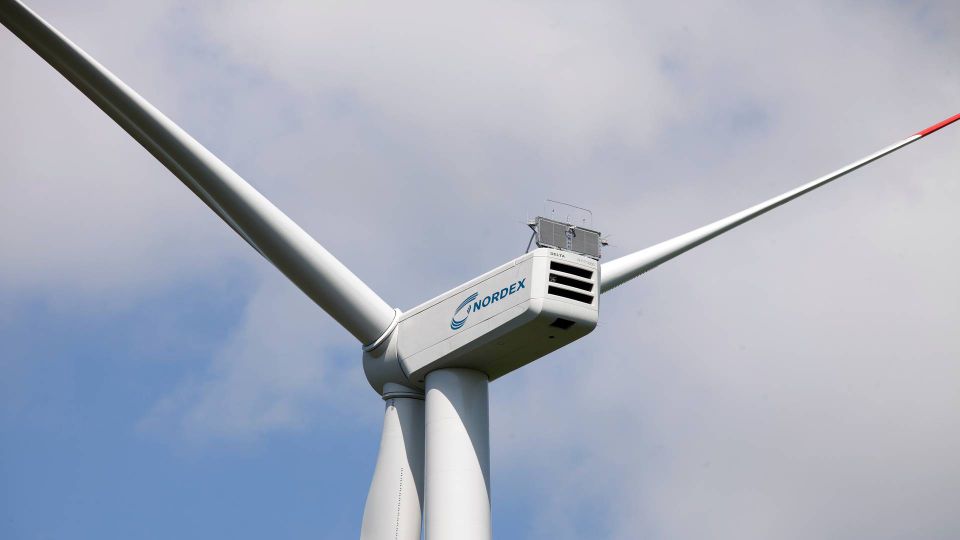 While Vestas announced a weak order intake – compared to previous years – of 2,011MW in total in Q4 of 2021, its German competitor Nordex has the gained the upper hand.
According to calculations by Senior Equity Analyst at Sydbank Jacob Pedersen, the rising star from Germany has outpaced Vestas on announced orders for Q4 – a development he describes as "almost unheard of".
"For 2020, Nordex' order influx came to around a third of Vestas'. That has been boosted in the course of the past year, but we haven't previously seen a quarter during which the announced order intake is larger at Nordex than at Vestas," says Pedersen to MarketWire.
According to his estimates, Nordex announced orders totaling more than 2,200MW in Q4. One thing to note about the calculations, however, is that Nordex usually announces more orders than Vestas. Accordingly, Pedersen expects that Vestas ultimately – when the unannounced orders are added to the Q4 tally – will outperform the German OEM on orders for the full quarter. However, Nordex can also still publicize more orders before releasing its financial report.
Even so, this doesn't change that this is a remarkable trend, says Pedersen.
"We've seen Vestas' order intake disappoint while Nordex's performance is the same – perhaps even slightly better – in Q4 compared to last year. Nordex' performance has gradually improved during the year, looking like a company that will see a greater order intake in 2021 than in 2020. For Vestas, it's the exact opposite," the senior analyst says.
Nordex seizing the opportunities
The likely reason for Vestas' disappointing order intake is that Vestas – much like the rest of the industry – has been challenged by rising prices of commodities and transport. This means that the Danish company has been forced to increase its prices considerably at the expense of customers.
This might have shaken up some market shares, according to Pedersen.
"The reason must be that Nordex carries off some of the orders that Vestas says no to. Vestas has come out to say that raising prices has been necessary, prompting customers to decline. That's when Nordex has come in," the Sydbank analyst says.
However, this might prove a risky strategy for the German OEM, which reportedly pursues a strategy of focusing on profitability rather than volumes.
"If there's anyone that needs higher prices, it's Nordex, which hasn't turned a profit in the past many years. Viewed in this light, it's quite unusual," he says.
An increased order volume could in itself improve profitability if a company is able improve capacity at its facilities by hauling in extra orders. That could provide a boost counteracting price increases on commodities and transport.
"It's somewhat of a double-edged sword because if you don't raise prices, it might be that profitability for the individual order shrinks, but if you utilize your manufacturing facilities better, it might be a push in the right direction," says Pedersen.
However, he points out that Vestas is keenly aware of its order flow.
"You might worry that if Nordex is actually winning orders that would otherwise have had Vestas' name written on them if the company hadn't raised its prices, it could hurt their earnings. Not every company is a good judge of what its orders are worth," says Pedersen.
While it's unlikely that the alarm bells are ringing at Vestas because Nordex outperformed the Danish OEM on Q4 orders, it's not exactly a comfortable position for the turbine maker, according to Pedersen.
"It would have been much better for Vestas if its competitors were also having trouble raking in orders in the fourth quarter. Which, all things being equal, it seems that Nordex isn't," he says.
"It's something that Vestas will be forced to weigh – whether they've gone too far and whether to lower the prices by five percent despite everything? It will affect profitability a little, but that way they'll be able to add more orders to the books."
Analyst: Nordex order could unnerve Vestas investors
Vestas far off target despite record end run
Vestas predicts the collapse of competitors
Analyst: Vestas' order drought somewhat concerning – but high season awaits