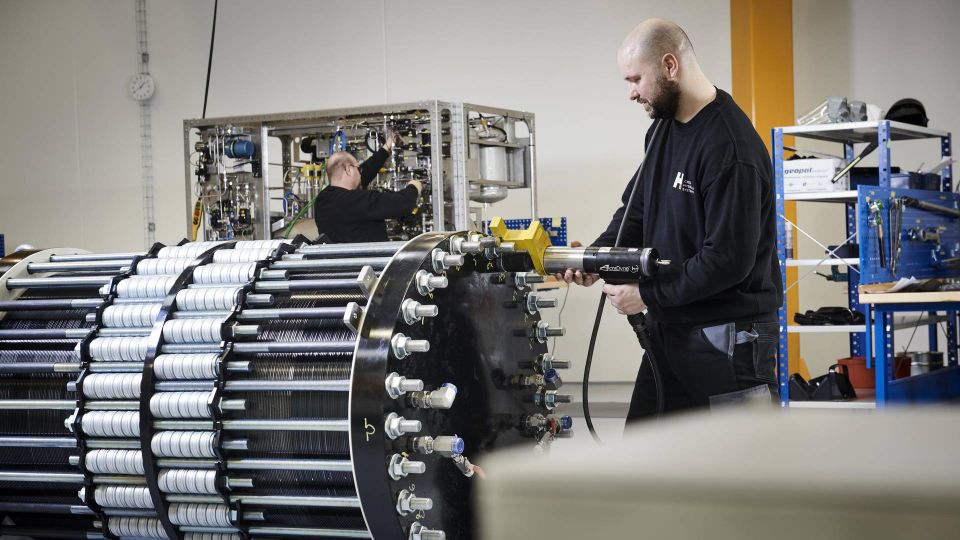 Although the first quarter looks promising for tech company Green Hydrogen Systems, which produces electrolyzers, after bagging two new orders, the headline in the report is markedly different.
In April, the company reported technical complications related to its A Series, though the scope of the consequences have yet to be determined. For now, GHS has had to withhold deliveries and suspend its 2022 guidance, the company writes in the quarterly report.
"That said, the full range of issues requires us to correct certain product components and functions and to allow time for recalibration and validation," says GHS Chief Executive Sebastian Koks Andreassen in a comment on the results:
"We are working intensively to confirm our plan for these technical corrections, and thereafter to confirm our adjusted delivery schedule and revised guidance for 2022."
It isn't the first time deliveries of A-Series electrolyzers suffer delays. In the 2021 annual report, the company downgraded its forecast, instead projecting revenue for postponed deliveries to be booked in 2022.
Operating result still negative
However, revenue doesn't appear to made much of an impact yet with the company recording DKK 0.1m in the first quarter.
Earnings before interest, taxes, depreciations and amortizations come to negative DKK 50m against DKK -36m in Q1 2021. Gross profit also tumbled, coming out to negative 2.5bm in Q1 2022 against negative DKK 0.7m in the same period last year.
On the other hand, the order book grew 2.5 times bigger from the same period last year after bagging contracts with Norwegian and Scottish partners, adding to a total of 12MW in the books.
The company makes no comment on the figures booked for this quarter.
Higher ambitions in Denmark and EU
Instead, GHS' CEO focuses his attention on the market and the political circumstances.
"We are observing a positive market momentum and outlook," he notes citing higher ambitions for green hydrogen in both native Denmark and the EU.
In Denmark, the government boosted ambitions for hydrogen produced through green energy in it latest draft, followed by similar steps by the EU in March. The plan is for green hydrogen to help replace the gas from Russia.
Green Hydrogen suspends 2022 guidance amid technical issues
Green Hydrogen Systems tripled value of A.P. Moller Holding loan
After suffering delays, Green Hydrogen System is poised to hit the ground running