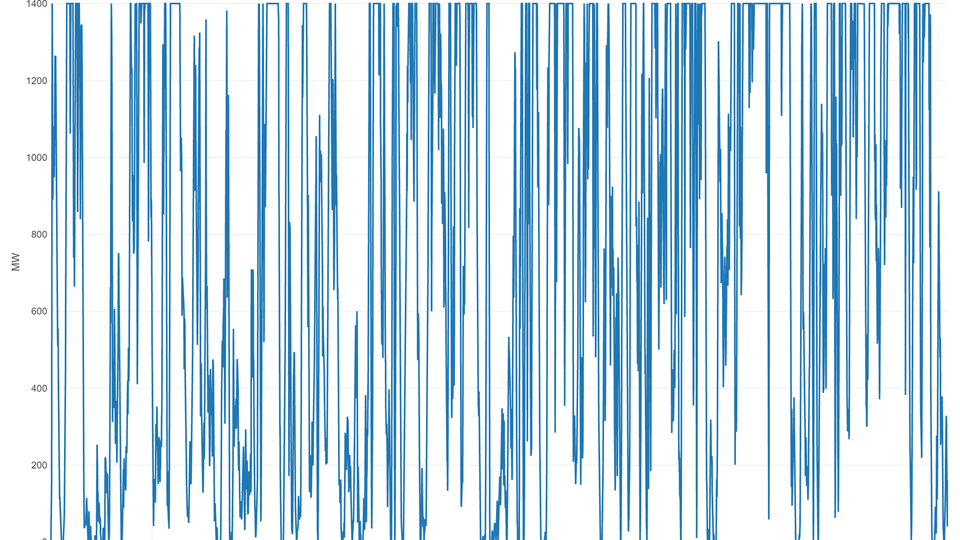 Norway has stated its ambition of achieving 30GW of offshore wind in 2030, but the country has thus far only designated space enough to host 1.5GW at area Sørlige Nordsø II and another 1.5GW at Utsira Nord, with the latter entailing floating wind – a technology still so costly as to require state subsidization.
Players vying for Sørlige Nordsjø II have expressed their intention of developing fixed-bottom wind without public support, however presupposing that the site's installations are connected with hybrid cables enabling power transmission ashore to both Norway and other nations. Moreover, surplus cable capacity should then be used for transnational electricity exchange.
Norwegian policymakers have decided that Sørlige Nordsjø II will be opened to host a total of 3GW, but will initially provide space enough for only half that capacity, which will be connected to Norway by way of a radial cable – thereby requiring state subsidization. This will likely take the form of a Contracts for Difference (CfD) scheme, but the Norwegian state is not yet decided, having said that development rights for Sørlige Nordsjø II will be allocated via auction. Details on the process are not made public.
"The government has said that it will prepare for the realization of the first 1.5GW from Sørlige Nordsjø II, connected solely to Norway. The Ministry [of Petroleum and Energy] will explore various subsidy schemes for the first phase of Sørlige Nordsjø II, for which CfDs are one of several options being considered," says State Secretary Elisabeth Sæther from the Norwegian Ministry of Petroleum and Energy to EnergyWatch.
If the states opts for CfDs, subsidy size will depend on the difference between the contracts' strike and spot prices in price area NO2.
Weather data shows potential power generation
To get an indication of subsidy scope, EnergyWatch has analyzed a new weather data set supplied by the Norwegian Water and Energy Resources Directorate (NVE) pertaining to Sørlige Nordsjø II. This data set shows hourly wind conditions from 1951 to 2020, and EnergyWatch has analyzed the set to ascertain theoretical electricity generation from an offshore wind farm of 1.5GW sending power ashore via a 1.4GW high-voltage direct current cable.
Wind conditions in 2020 would provide roughly 6.9TWh: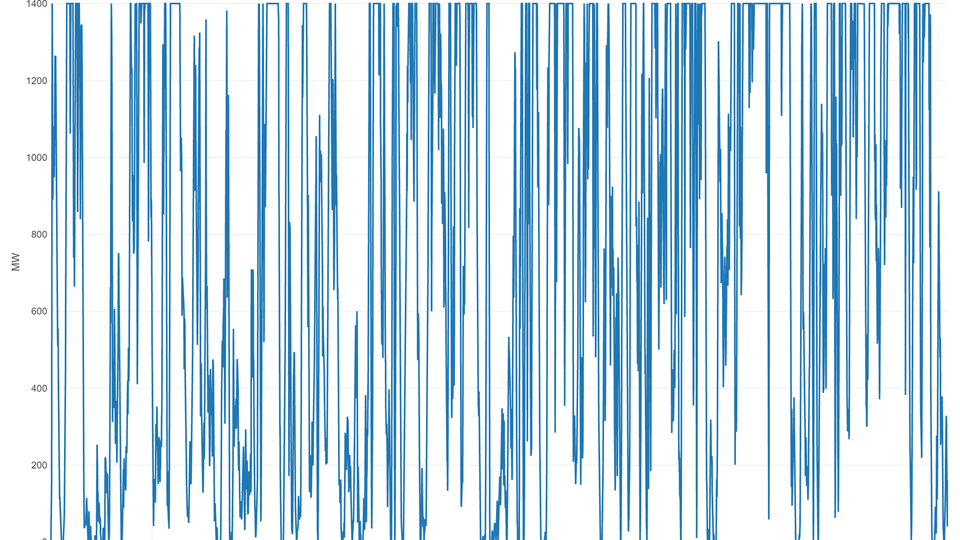 The best wind was in 2005. With such conditions, Sørlige Nordsjø II would have has theoretical output of 7.5TWh, while wind in 1963 would have produced 5.8TWh.
Expected LCoE of EUR 60 per MWh
NVE is cited in the energy report for calculating that estimated levelized cost of energy (LCoE) related to developing Sørlige Nordsjø II would come to approx. EUR 60 per MWh and that today's costs amount to approx. EUR 78 per MWh. It is further estimated that costs would drop to between EUR 48-68 per MWh by 2030 .
On the basis of LCoE of EUR 60 per MWh, as calculated by NVE, EnergyWatch has investigated the scope of the subsidies needed if electricity prices are on par with 2019, 2020, and 2021 levels. These three years represent normal prices, record lows and record highs in Norway. The comparison is made on an hourly basis at pricing region NO2, to which both Sørlige Nordsjø II and Utsira Nord will be connected.
In 2019, the average NO2 price was approx. EUR 39 per MWh. Historically, this is a normal power price in Norway, meaning that the state would have to shell out NOK 1.2-1.5bn in subsidies, contingent on the applicable year.
Meanwhile, 2020 electricity prices average approx. EUR 10 per MWh. That was a record low, and given the wind conditions featured in NVE's data, this would have entailed that the state would need to pay NOK 2.9-3.6bn to bridge the gap between LCoE and the spot price if an CfD had been struck.
In 2021, however, the prices went through the roof. NO2 prices average approx. EUR 76 per MWh after a substantial price increase in the fall. Viewed on the basis of the first six months, it would have led to subsidies being paid out, but for the full year, the state would have gained a profit. The historic weather conditions would have yielded NOK 0.9-1.6bn in payments to the state.
These calculations do not account for the possibility that increased electricity generation from offshore wind would affect the NO2 electricity prices, nor that power consumption would increase in coming years. Yet, the calculation provides a fair indication of major variations depending on the electricity prices and that every year billions of Norwegian kroner are involved in each new offshore wind site. If the CfD is higher or lower than EUR 60 per MWh, this would affect the sum as well.
Ministry undecided on subsidies
The Norwegian Ministry of Petroleum and Energy has no comments on the scope of the subsidies as laid out by EnergyWatch. The ministry informs that it has yet to decide on how to configure the subsidies.
"Both the structure of the subsidy scheme and the scope of support for the first phase of Sørlige Nordsjø II are things we will have to return to once all of this is concluded and the government has taken a position on this," says Sæther.
NVE also informs that they have not been asked to assist the ministry in drawing up criteria or subsidy schemes for offshore wind sites. This is a task handled exclusively by the Ministry for Petroleum and Energy.
Wind at Norway's fixed-bottom wind site found superior to area for floating variety
Norway wants to be offshore wind exporter
Nordic electric grid constrains large offshore wind farms