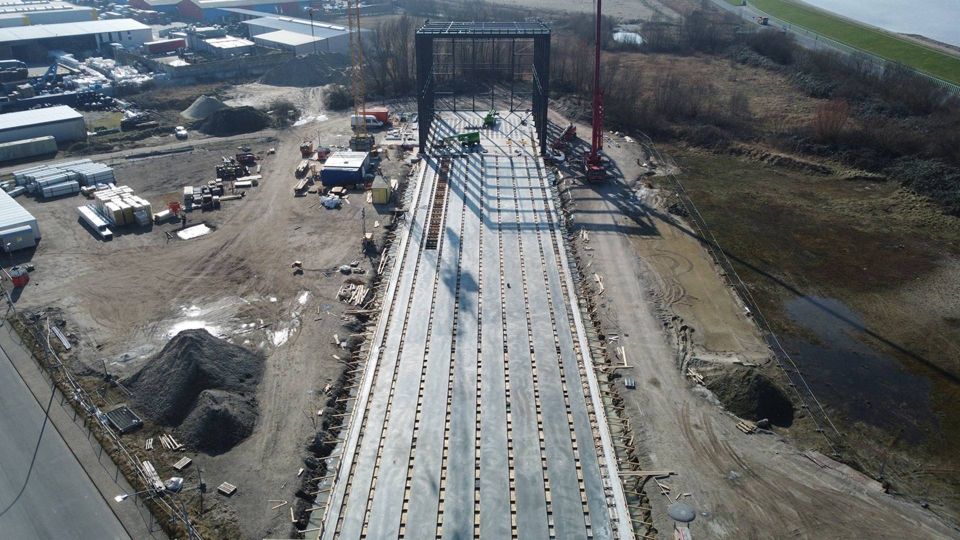 The test bench being built by Fraunhofer Institute for Wind Energy Systems in Bremerhaven will be able to handle rotor blades spanning 120m. A large portion of this capacity will be needed later this year when the institute will test the 115.5m rotor blades for Vestas' 15MW V236 turbine.
Vestas will thus be the first to try out the test bench, which can perform both full-scale biaxial tests and segment testing of rotor blades.
"Even after more than 30 successfully completed test campaigns, a rotor blade measuring more than 115 meters still represents a special challenge for us that requires particularly close cooperation between all those involved," says Head of Department Rotor Blades at Fraunhofer IWES Steffen Czichon:
"We are delighted to have been able to secure in Vestas a long-time partner as the first customer for our new test bench."
The institute expects to initiate testing of the rotor blades this fall.
"We look forward to conducting the rotor blade test we need for our V236-15.0 MW™ prototype with a rotor diameter of 236 meters together with Fraunhofer IWES, with the aim of being able to start the serial production planned for 2024 assuredly," says Chief Specialist of Test & Verification at Vestas Christian Fenselau.
The test bench is partially funded by a grant of EUR 14.8m from the German Federal Ministry for Economic Affairs and Climate Action.
Vestas plans prototype installation of world's tallest, most powerful wind turbine
New Vestas turbine selected for 2.1GW US offshore wind
LM Wind Power manufactures first recyclable thermoplastic wind turbine blade